waivers of liability
before their children can come over for play dates or parties.
I wish I was making that up.
When I was a kid, I don't think our parents used the phrase "play date." I think we just went over to one another's houses. I'm almost positive that no waivers and indemnifications were involved. I blame us lawyers for this, alas.
Photo credit: Let's_Play! by Jon Hurd (originally posted to Flickr as Let's Play!) [CC-BY-2.0], via Wikimedia Commons
Some parents are now requesting that other parents sign
Every so often, I like to check Google Analytics to see what search terms are leading people to my website. This is the sort of endeavor that always seems like a good idea until you actually do it, and then you feel a sort of dirtiness that all the soap, water, and acetone in the world cannot remove.
Most of the search terms were pretty obvious, consisting of the names of specific people mentioned in posts, and the occasional legal search term. A handful, though, range from amusing to bemusing to downright macabre. Screencaps and commentary to follow (click screencaps to embiggen).
I. A darkly-amusing variant on some previous posts:
Search term #45: "how is john thomas ford doing in jail"
I sure couldn't tell you. As far as I know, he'll be there a while. Ask somebody who cares.
II. I guess I could see how this led you to me, but…
Search term #46: "i don't heart caplocks"
Neither do I. People who type with caps lock on make me very, very ANGRY.
III. You came to the wrong place for this:
Search term #35: "boobs"
Nothing to see here. Move along….
Search term # 59: "utah boobs"
Um, I did once write a post with both "boobs" and "Utah" in the title, but that only explains my side of this equation.
Is there something about boobs in Utah that merits such a specific search? Have I been living under a delusion that boobs are pretty much the same all over the world? I tried Googling to see what I could learn, but I just ended up back on my own site.
Search term #57: "sexy pics online"
The fact that someone actually clicked on a website called Wells Law Office looking for "sexy pics" makes me very, very concerned for the future of this country.
IV. Wait, what?
Search term #54: "nutella covered person"
V. Now I am scared…
Search term #27: "rape sex in an elevator"
I assume this led to my post on "Elevatorgate" from last summer. I cannot fathom, nor do I wish to fathom, what one person searching three times expected to find.
Search term #60: "www.animalsdog.com xxx"
Ummm, uh…..I, uh……um…….
Thank you all for coming. I hope you've enjoyed your time here, but I think it is clear that the internet is over. Everyone please back away quietly…..
At least I know that the people doing these particular searches did not actually spend any time on my site.
For my second (and last) CLE session at South by Southwest, I went to something called "The Automobile As Network Node." I'm going to quote from the course materials, because I really didn't understand any of it:
Automobiles are increasingly connected to computer networks and are used to collect, use and share vehicle-related information. They also provide a delivery mechanism for driving, entertainment and other content and information. This panel will discuss legal issues arising out of and related to the collection, use and disclosure of vehicle-related information and related emerging legal issues of data use in or related to vehicles.
Aside from an unintentional bad pun, I can't say I got much out of this. That's entirely my fault, for not having any foundation that would allow me to understand the material. I did learn the word telematics, whose definition is roughly paraphrased as the "intersection of when the vehicle knows where it is located and has the ability to engage in two-way communication." The original idea was to allow a person who needed help to call for it, using embedded mobile technology. I am fuzzy on the technology and the legal issues.
I'm kind of disappointed in myself, because this means I checked out on a seminar on intelligent cars. Dangit.
It did yield the best audience question ever, though: "Are self-driving cars plausible from a legal standpoint?"
I wish I could remember the answer.
Photo credit: Enigma3542002 at the English language Wikipedia [GFDL or CC-BY-SA-3.0], from Wikimedia Commons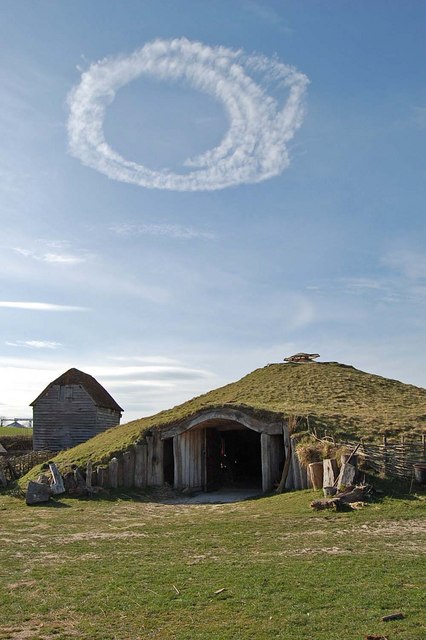 Today I decided to avail myself of some of South by Southwest's CLE offerings. Since I have some interest in internet law, including issues like cloud security, I was very interested in "Gimme Shelter from the Storm Clouds." This was advertised as a panel looking at "the disruption caused by some new cloud-based services and how this disruption is affecting existing industries." That's not exactly what they talked about. The panel consisted of two lawyers and the owner of mp3tunes, a "music locker" service.
Let's just say there were fireworks.
Copyright law allows people to keep "ephemeral phonorecords," meaning digital copies of music you own, i.e. ripped copies of your own CD's. It gets tricky when you start sharing that music with others, and it gets really tricky when you upload that music to the internet. A major issue for the cloud is whether a license is required for every digital copy of a song. There does not seem to be a consensus on this question–if there is, it was not in evidence today. It's still a pretty good question.
Who has the burden of establishing whether a given track infringes a copyright? The law basically says that the copyright holder has that burden, but they argue that the service provider has the most readily available information on the upload itself. On the other hand, the service provider does not have the resources to review every possible license a file could have. The technology is advancing far, far faster than the law can possibly pace.
A few years ago, mp3tunes reportedly received a copyright takedown notice after it linked to a song on the SXSW website. This was, according to the speaker, just a link to the page where the song was posted. I asked how that could possibly be infringement, and he told me that it was an attempt by the copyright holder to intimidate him, or something along those lines. I find the argument interesting given that one website linking to another is pretty much the foundation of the internet, without which SEO wouldn't even be possible. The question of whether linking to copyrighted material, especially deep linking to specific files, is infringement is still somewhat of an open question.
They talked about the MegaUpload case at length. On the one hand, the federal government arrested a large number of people for copyright infringement–not normally a criminal matter per se–and seized all of their assets with little to no due process. On the other hand, a comparison was made to a RICO prosecution. I'm not as familiar with the case as I should be, so I guess this will lead to more posts.
Photo credit: Cloud or con trail, Cranborne, Dorset, copyright Clive Perrin and licensed for reuse under this Creative Commons Licence
As part of my ongoing coverage of my experiences at South by Southwest Interactive 2012, here is a my recap of a session from this morning entitled "The Undoing of Copyright Trolls" (#UndoTrolls on Twitter). Here is a recap of my notes on the session:
The session was conducted by Robert A. Spanner, president of the Trial & Technology Law Group. Copyright trolls, a relatively new phenomenon, acquire copyrighted material or work for someone with copyrighted material. They then go on the internet & look for people using that material. When they find someone they think has posted infringing material, they shake them down for money. The troll's role, in essence, is that of an extortionist.
He says the problem began with production and record companies that gave the impression that infringement was a capital crime. If the public thinks copyright is extremely serious, this makes copyright trolls' job much easier because people are more likely to cave in to demands.
Here are a couple examples of people who take a different view of copyright:
Angry Birds: the owner of these universally-recognized images views copyright infringement as free additional exposure for his products.
Neil Young thinks distributing music over the internet has taken the place of radio, meaning it is the best way for new music to quickly get wide exposure.
The most famous copyright troll is Righthaven, a company Spanner says was created specifically to be a copyright troll. Righthaven apparently acquired all of the production from the last several years of a Las Vegas newspaper. Its agents would locate infringing material online and attack.
The Digital Millennium Copyright Act (DMCA) allowed them to subpoena user info from the ISP to find out who posted an image. The troll has to provide certain info to get the subpoena. Trolls, Spanner says, are not very good at filling out the paperwork to get the subpoena. They have to pursue these cases in volume for business reasons, so they don't always pay close attention to the paperwork. Trolls, he says, "say the darnedest things" in these papers.
Two documents required by the statute: a declaration of infringing material, identifying the material with some particularity, and a statement of copyright owner. These two documents, as filed by a copyright troll, often conflict with each other. Usually, they are full of misstatements. The trolls "learned their tactics in the sewer," according to Spanner.
Once he files and wins a motion to quash the subpoena against the troll, the case should get thrown out for lack of evidence. The next step after getting a motion to quash granted is for the defendant to take down the offending material. This really screws the troll.
If the troll claims an error in the first petition, it must submit a revised request for a subpoena or drop the matter entirely. The troll has to identify the infringing material. If the material is taken down, the troll has nothing to claim. The troll has to show current use of the infringing material, which troll now cannot do. The troll also has to show that they have given the ISP enough information to locate and remove the infringing material, which the troll also cannot do. As a result the case gets thrown out a second time.
Courts have held that, if the troll fails to meet these statutory requirements, the case must be thrown out. Therefore, Spanner argues, if you can get past the first subpoena, you have a defense to copyright infringement under the DMCA.
At this point an audience member asked a question re: why Righthaven is called a "troll." Spanner answered that trolls are only interested in collecting money, not so much in enforcing copyrights. It is not the fact that they are enforcing copyrights, in and of itself, that's the problem. It's that, according to Spanner, they do it so badly. Trolls have no interest in litigating. They may even drop defendants from a suit if it gets too hard, but they also tend to file mass suits against thousands of defendants with disparate circumstances, because it is more efficient than filing separate suits..
Now that you beat the troll, Spanner asks, are you done with him? The troll can't bring the case again, so it is a pretty clear victory. Spanner says a copyright lawyer should consider putting the troll out of business at this point. After losing a case in this way, a troll could be facing tens of thousands of dollars in attorneys' fees. It would not take many such motions to put a troll out of business entirely. A motion for attorneys' fees is what brought down Righthaven.
It is not generally known, says Spanner, that if you win at that first phase of the litigation (the DMCA subpoena), you win.
He spoke about mass troll cases as well, with hundreds or even thousands of defendants accused of BitTorrenting movies. Some pretty cool software detects BitTorrent users in the stream of the internet. It is apparently rare to see a BitTorrent case without thousands of defendants. From the troll's point of view, if 10% each pay $3,000 to avoid hundreds of thousands in statutory damages, the troll will get rich.
Spanner cited two cases of mass cases that did not go well for the troll. In a case in Fort Worth, Texas the ISP filed an elaborate motion to dismiss the troll's subpoena. This was a nightmare for the troll, who just wanted to get money quickly. In a case involving the movie "Call of the Wild," a troll filed suit over five different movies, naming more than 5,700 defendants. All of the defendants were sued in D.C., despite the fact that they were from literally everywhere. Even movie companies called it improper joinder. The judge allowed discovery to determine if joinder of all of the defendants in D.C. was improper. Eventually, after an extensive search, troll could only find 3 people out of 5,700.
I asked about what specific rights the trolls acquire for the copyrighted material, i.e. do they acquire the rights to enforce the copyright and collect royalties, or just enforcement? I'm not even sure how that would work, but it occurred to me that, if it is possible to only acquire the enforcement rights (or whatever they would be called), that would create an odd situation where a party is enforcing a right without actually suffering a harm, in the sense that the enforcement rights holder doesn't actually lose anything due to the alleged infringement. Turns out it is not always clear what rights the troll obtains–these cases seem very unusual. I'm glad I learned this stuff, but that's about it for me on this issue.
UPDATE (03/13/2012): It sounds like Righthaven is pretty much f***ed (via Wired):
Righthaven, a copyright-troll law firm that failed in its attempt to make money for newspapers by suing readers for sharing stories online, was dealt a death blow Tuesday by a federal judge who ordered the Las Vegas company to forfeit "all of" its intellectual property and other "intangible property" to settle its debts.

The order is an ironic twist to a copyright trolling saga that began in 2010, when Righthaven was formed with the idea of suing blogs and websites that re-post newspaper articles or snippets of them without permission.

U.S. District Judge Philip M. Pro of Nevada ordered Righthaven to surrender for auction the 278 copyrighted news articles that were the subject of its lawsuits.
A parent who smokes can pose a health risk to a child. Can anyone honestly dispute that premise? I know a parent's smoking can be a factor in a custody decision because I have seen it happen. A child with some fairly serious respiratory issues would tend to come home from the non-custodial parent's house with ailments ranging from the sniffles to bronchitis, and we had the medical records to prove it. I represented the custodial parent, obviously. The parent's defense, in essense, was that no one was allowed to smoke in the house when the child was visiting. They smoked in the house when the child wasn't around, and they smoked outside when the child was there. The parent did not seem to understand the tendency of the particulate matter put off by cigarettes to hang around an enclosed space long after the cigarette goes out. That would be what was making the child sick. The judge, in ruling in our favor, noted that the non-custodial parent did not seem to have much understanding of, or concern for, the child's health.
It brings up a sort of interesring question: if courts can consider smoking as a factor in determining custody, how much further can they go in making decisions for the child's health. Can one parent use the court to dictate everything the other parent feeds the child? Attorney Myra Fleischer, writing at the Washington Times last month, describes these concerns and pretty much dismisses them, which I think is correct:
Civil libertarians and parents may argue that the state may expand its intrusion into other family affairs if it is allowed to limit the right of a private citizen to smoke as a condition of being a parent. What if the child drinks too many sugary sodas, or plays violent video games? Most people bristle at the thought the state can monitor what a child eats, even though most people understand that a high fat, high sugar diet can lead to serious medical problems such as obesity and diabetes. If the state can control smoking by parents, couldn't the state also control the type of diet a parent provides their children? It's doubtful we will slide down this slippery slope, since the consequences of second hand smoke are well documented scientifically, giving the state an interest.

But this argument might as well be saved. Many courts have already decided that smoking should be a factor in custody decisions. Judge William F. Chinnock, visiting Judge to the Ohio Supreme Court, said in a law review article that a "considered analysis of family law across the United States leads to this inescapable conclusion: a family court that does not issue court orders restraining persons from smoking in the presence of children under the court's care fails those children whom the law has entrusted to its care."
The difference between smoking and the examples cited is that smoking has no benefits whatsoever for a child. Video games are fun and fatty foods are yummy, and in moderation neither is necessarily harmful. Particularly in the case of video games, there is nowhere near the body of scientific evidence demonstrating harm like there is with smoking. Prohibitions on smoking are nothing new in society. Restaurants maintained non-smoking sections long before cities and states enacted smoking bans. To my knowledge, no one has created a non-fatty food section in a restaurant (i.e. a place where fatty foods are banned). I suppose it's possible, but it's hard to imagine and relatively easy to guard against.
If a parent is feeding a child nothing but hot dogs, soft drinks, and ice cream, then that is a specific problem a parent can take to a family judge. If a child, with either the permission or acquiescence of a parent, plays "Call of Duty" to the exclusion of school and other responsibilities, that is also a significant impact on the child's welfare. Most states' family codes empower family judges to make orders that protect the "best interest of the child." This tends to be a maddeningly ill-defined phrase, but caselaw offers a guide to what a court can and cannot consider.
Considering smoking as a factor in child custody makes sense from a health standpoint. It makes sense from a practical standpoint because, unlike video games or fatty foods, it is not taking something away from a child that the child wants (and if the child wants cigarettes, there is another problem). Finally, existing law already allows it. This should not be a serious issue of civil liberties. Adults ought to have the right to abuse their own bodies as they see fit, for the most part. When science clearly shows a harm that is not mitigated by any benefit to a child, then the law begins to take an interest in a parent's activities as they pertain to a specific child (bolded because this is not about trying to stop people from smoking, eating ice cream, etc. in a general sense).
The interesting part is when people start to debate what activities of the parents directly harm the children. I happen to think very few of a parent's activities done well out of the presence of their children directly harm them (particularly ones that do not produce secondhand smoke), provided the parent does a good job of keeping them separate.
Photo credit: By Opa (Own work) [Public domain], via Wikimedia Commons.
As I attend the South by Southwest Interactive Festival this week, I suppose one could say my transition from a law-focused career to a writing-focused career is turning a corner or something. I'll have to work on that sales pitch a bit more.
It got me thinking about anything I might have to offer young lawyers trying to do what I did over the past decade, and a few tweeting colleagues helped me realize the biggest piece of advice I could possibly give: get a freaking mentor.
If you are a young, newbie lawyer condemned by the economy to solo practice, get a mentor. Stop whatever you are doing, I don't care if it's cooking breakfast, driving down the interstate, or even getting some. Just stop, ponder the type of law you are trying to practice, and find a mentor. A Twitter exchange yesterday between veteran lawyer Antonin Pribetic and newbie Stephanie Toronto encompasses the importance of mentoring. (Of course I had to respond too, and that inspired this post).
As a second, somewhat-related piece of advice, I'd say this: don't obsess over technology. Gadgets are awesome, but technology changes constantly and the practice of law changes pretty much never. Young lawyers, myself included, can get hung up on having the most-efficient doo-dads. Read Scott Greenfield's post about the dangers of tech innovation in a law practice, especially when you deal with serious legal matters like criminal or family law, where the cost of an inconvenient computer crash could mean someone goes to prison or loses custody of their children. Sometimes taking notes on a legal pad makes sense, is what I'm saying.
I did not have anything resembling a mentor for years after I started practicing, and it showed. In my first year, I left the courthouse almost in tears on multiple occasions (at least I waited until I got to the car, most of the time) out of a sense of shame, embarrassment, or just plain ol' fear. Fear because I never quite knew what to expect when I walked into a courtroom. Of course there is always uncertainty when you go into court, but I mean I sometimes literally had no idea what was going to happen. That was bad for me psychologically, but it was potentially far, far worse for my clients. I was doing family law, and my then-law partners' criminal practice had several assault with family violence cases that led to divorces. These were not simple cases. They were highly emotional and combative, with every conceivable issue that could be disputed in dispute. Luck was an enormous factor in warding off disaster.
I went to CLE seminars on divorce, and I took advantage of the list of more-experienced lawyers who had agreed to offer their wisdom to us upstarts. I always called them with a strange sense of fear or shame, as if I was exposing too much of my ignorance by admitting there was something I did not know. I have no idea where that notion came from but it is (and let me be clear) utter, complete, and highly destructive bullshit. Of course you don't know what you're doing – you just started doing it!
The only people who expect a brand new lawyer to perform perfectly in court are clients, judges, and juries.
And they are the only people whose opinions matter at the end of the day.
So how do you find a mentor? Again, I was never very good at it, but here are a few tips anyway:
1. The courthouse. If you're there all the time, try talking to other lawyers there. You might get blown off a lot, but you never know who you might meet.
2. Local bar associations. Many cities and towns have their own lawyer organizations that offer opportunities for CLE, networking, and even mentoring. Some even have official mentoring programs.
3. Actually, that's a long enough list for now.
Where should you not go to find a mentor? A few places spring to mind:
1. Craigslist
2. Answers.yahoo.com
3. Bus stops
4. Bars frequented by college students
5. Me
As a final note, if you are in court, arguing an objection, and you suddenly realize that you just recited nearly-verbatim an objection you heard Jack McCoy make on "Law and Order," it is time to get a mentor. Or a new career. Up to you.
UPDATED (03/23/2012): Corrected an unfortunate spelling error.
Photo credit: 'Manta Ray, Kona Coast, Hawaii' by SteveD on Flickr.
I feel comfortable calling it for the year with these two cases. The fact that I learned about them within a space of just over twelve hours just makes it that much odder.
From the "Didn't we bring something else with us?" category, we have the parents who forgot their kid at Chuck-E-Cheese, then didn't realize they forgot:
Parents of a 3-year-old girl had some explaining to do after they forgot their daughter at a Chuck E Cheese and did not realize it until they saw her picture on the evening news.

The girl, named Harmony, was left behind at the theme restaurant in Bel Air, Md., after she attended a large party with her parents. According to a report from the Harford County Sheriff's Office, both of Harmony's parents, who share custody, assumed the girl had gone home with other relatives.

A restaurant manager alerted sheriff's deputies around 8 p.m. that the girl had been left alone after Harmony approached a staff member to say she was thirsty.

Unable to locate the 3-year-old girl's parents, the deputies asked local news media to put Harmony's picture on the evening news.

Shortly after Harmony's picture showed up on the 11 p.m. newscast, multiple phone calls came into the Sheriff's Office, including calls from the girl's parents. After police determined that Harmony's abandonment was inadvertent, Child Protective Services released her to her mother, and no charges are expected to be filed.
I'm glad everything worked out okay. Harmony may never want to go to Chuck-E-Cheese again, though.
Next, from the great state of Texas, we have the parents and aunt who clearly didn't watch "Into the Wild" all the way to the end:
A broken-down school bus on a garbage-strewn lot in Montgomery County was home until Wednesday for two children whose parents apparently are in prison.

A postal worker discovered a girl, 11, and her 5-year-old brother about 10 a.m. while making rounds along Three S Street near Circle H, officials said.

"They appeared to be unsupervised," said Jamie Nash with the Montgomery County Precinct 4 Constable's Office.

The bus had been converted into quarters for the children, with bunk beds and a window-mounted air conditioner. But shocked local officials said the youngsters' living conditions were deplorable. What little food they could get at was in another building on the lot.

"Everyone who was on the scene talked about the odor – there was a lot of trash on the property," Nash said.

***

Hayden found a woman on the property who is believed to be the children's great-aunt. The woman said she works a 12-hour shift Monday through Friday, but was always with the children at night.

"Whether she was there or not, they were being unsupervised for extended periods. It's not acceptable," Nash said.

The children said they were home-schooled and are not listed on the rolls at the Splendora Independent School District, officials said.
Again, sounds like everything worked out okay, or at least things potentially could work out okay. The article also mentions that the parents are in prison for defrauding Hurricane Ike victims in 2008. Times are tough, but damn, that is very not okay.
A hospital network in Maryland has come up with an inventive way to deal with malpractice claims: sent the complainants directly to lawyers. Via the American Medical Association's American Medical News:
MedStar Health, one of the largest health care systems in Maryland, prides itself on being proactive when faced with accusations of medical negligence.

MedStar says it discusses with patients what happened during treatment, works toward a resolution and, when appropriate, proposes a settlement. But if patients decline to settle, the health system takes an unlikely next step: It offers them the name and number of a lawyer.

Providing such referrals can resolve cases more quickly and keep complaints from turning into long legal nightmares, MedStar officials say. The strategy also saves health professionals and patients legal expenses. The vetted attorneys agree to take patients' cases at a reduced rate.
A patient (or family member) asserting a malpractice claim against a hospital receives a referral for a reduced-fee attorney from the hospital, directly vetted by the hospital?
What could possibly go wrong with that?
Hospitals say the practice is good for patients, who often are unfamiliar with the legal system and want compensation for their injuries as soon as possible. But legal experts question whether patients are being misled by hospitals. They also wonder if attorneys on the list may have conflicts of interest and if doctors caught in the middle may end up paying a hefty legal cost.

"As a patient, why would you want that referral?" asked Karen M. McGovern, a Colorado medical liability defense attorney and a nurse for more than 20 years. "There's a reason these attorneys are being referred by the hospital. What I suspect is that this is an attorney who doesn't push the cases to trial and settles for lower amounts. Is that attorney going to make up the difference by going after the doctor?"
That's a defense attorney making that argument. As in, an attorney who represents hospitals against malpractice claimants. She does not want some cakewalk attorney on the other side, because it would only take a little bit of evidence of some sort of undue influence or collusion between the hospital and the plaintiff's attorney, and that hospital is in for a world of hurt. There is a very good reason why referral services, i.e. services that match the public up with lawyers, need to be independent entities. This sort of appearance of impropriety, even if none exists, is enough to sink quite a few ships. Plaintiff's lawyers and other health-care atorneys are even less polite about the idea:
The attorney-referral idea could save legal costs for patients, hospitals and health professionals, said S. Allan Adelman, a Maryland attorney and past president of the American Health Lawyers Assn. But the move is risky, he added. For instance, a patient could sue the lawyer after a resolution is reached, alleging that the attorney was beholden to the hospital and did not fairly represent the patient's interests.

"The patient could come back and file a claim against the attorney, saying he sold them down the river because of a conflict of interest," Adelman said.

Susan A. Dennehy, a New York plaintiff attorney, questions whether patients would be served by accepting a hospital's attorney referral. "The concern would be if the patient didn't fully understand the extent of their injuries," she said. "Attorneys are not allowed to solicit clients, and it seems as if the hospital is kind of working with the plaintiffs' attorney to resolve the case in a way that's unorthodox."
No matter what the public image may be of ambulance chasing scumbag lawyers, a good medical malpractice attorney must develop a considerable body of medical knowledge. Your average plaintiff is not going to understand their own injuries particularly well most of the time. The attorney has an important role in communicating so the plaintiff understands what his/her rights are. A settlement of a claim for damages requires a plaintiff's informed consent, which requires an advocate with no relevant conflicts of interest to provide that information.
On the flip side, the pre-vetted plaintiffs' attorneys may decide to go for broke, putting the entire medical team at risk:
McGovern, the Colorado defense attorney, worries that hospital-based doctors are at risk for costlier lawsuits if patients accept the hospitals' attorney referrals.

"If [an attorney] is taking the case at a reduced fee, then the attorney is going to be looking to recoup the money that he could have made and looking to get his clients the money he thinks they deserve," she said. "I think he would go after the doctor. You go after the deepest pockets."
I have to wonder if any lawyer who did that might find themselves "disinvited" from the referral list, so long as the hospital can find a sufficiently non-suspicious reason.
Finally, given how tort reform is all the rage these days, a system like this might represent an effective capitulation (assuming you accept the inevitability of tort reform):
Maryland attorney Brian Nash doesn't see anything wrong with the health systems' legal approach. He has represented plaintiffs and doctors in medical liability cases and has been referred through MedStar's lawyer list.

"The lawyers may make less, as does the cottage industry associated with litigation, but it truly is a loss that is well worth the price to get these matters resolved fairly, economically and timely," Nash said in an email. "It is perhaps a form of tort reform that works for not only the health care industry but, more importantly, for the injured patients and families."
The articles notes in closing that the Maryland State Medical Association is not a fan of the referrl system. Not so much because of patient protection or risk management, but because they say lawyers will not cooperate with them for "real reform." the struggle continues ever onward.
I received this in the mail a few weeks ago:
Yes, the keynote speaker at the American Bar Association's annual technology trade show will be Ben Stein. Info/Law has a good rundown of all the reasons why the ABA should be embarrassed by this. I'd just like to point out something that I hope will be obvious to everyone.
Their keynote speaker is a man whose entire claim to fame is a cameo performance in which he portrayed a singularly bad public speaker.
Well played, ABA.